25 Ideas for Front Door Colors for A Red Brick House
Last Updated on July 31, 2023 by Tokyo
Every visitor to your home interacts with the front entrance immediately, front door designs are crucial in creating the overall image of your home. Decorate your front entrance tastefully in keeping with the style of your home.
Ideas for Front Door Colors for A Red Brick House
The exterior color schemes chosen for a home depend on its shape and size, the landscape, the architecture, and the homeowner's preferences. On the other hand, any exterior color scheme must be completed with the front door color. Some of the popular front door colors for brick houses are:
1. Dark Grey Is Great:
A great-looking shade that doesn't attract much notice is dark grey. Grey is one of the most pleasing exterior door colors. This shade blends in with the outside of your home but does not stand out too much. Your house will have a distinctive appearance with a dark grey front gate, and the door won't take away from how your house looks from the outside.
There are a few considerations when searching for a dark grey front door. To begin with, confirm whether the door is constructed of fiberglass or steel. Compared to wood, these materials will withstand the weather better.
Second, pick a gate with a straightforward layout. If you're not an experienced painter, you should avoid painting a complicated door since it might be challenging. Third, ensure sure the sealant on the door is effective. This will shield it from the weather and make it look good for a long time.
2. Teal Is A Fantastic Option
This shade is ideal for a front entrance as teal green or teal blue. It's a cheerful hue that greets visitors and goes well with brick houses.
Painting your entrance door teal is a fantastic option to give your house more curb appeal. It's a project that costs little money yet has a significant impact. Additionally, it is a quick and straightforward approach to giving your house a new look.
Make sure to choose high-quality paint if you intend to paint your entrance door teal. By doing this, the color will be preserved for many years. Ask an expert for guidance if you're unsure which tint of teal to select.
3. Majestic Purple
Purple is a unique and lovely door color with red brick house. Rich purple brings attention to your entrance door and gives your house a pleasing aesthetic. Many red brick homes have front doors in the color purple. Red bricks look fantastic with the color purple.
It's the color of royalty and luxury. Seeing the purple-colored front door on one of the red brick houses, I have concluded that the purple door and red bricks form an outstanding combo.
This door's purple color is unusual and attractive. Why not try an entrance door of purple if you're searching for a method to give your house a little flare and flair? You might love it very much!
4. Royal Navy
We adore the "new black" trend. Because it is both timeless and contemporary, navy is an excellent color for a brick house front door color. It also complements brick homes effectively. Consider blue for your front entrance if you have a brick home and are searching for a fresh hue! You won't be let down.
Navy doors are another excellent approach to improving the exterior appeal of your house. Painting the front gate blue will increase interest from potential buyers if you're seeking to sell your home. The color navy conveys the message "welcome home!"
5. Darker Brown with lighter bricks
A straightforward brown door looks excellent since the tones of red brick homes are naturally brown. Brown doors provide fantastic flexibility since you may utilize them to stand out or blend in. Red brick homes frequently feature traditional brown gates.
Here, putting little flower pots outdoors improves the exterior's appearance. It is best to use classic brown only if your brickwork is light red since it is deeper in color. This is because dark red and brown do not complement each other well. If you utilize these front doors, your house will have an excellent vintage appearance.
6. Softer Yellow Color
This brightly welcome soft yellow door greets visitors. The grey façade contrasts sharply with the pink entrance. You may demonstrate your vivid decorating sense to visitors and onlookers by selecting a yellow entryway. You may add a wreath, a doormat, and flowers in the same color to your yellow door.
It's common to mix red and yellow together to produce striking contrasts. The usage of a yellow front gate is prevalent in homes built of red brick. You may create an excellent contrast between light doors and dark backdrops since the yellow gate is brighter than the red brickwork.
7. Appealing Golden Doors
You can draw attention to your home if you consider it a golden entrance. Although this door has a golden tint, it doesn't overwhelm. When used with red bricks, a hue that contrasts bright and dark is ideally golden. Your home's exterior will shine and appear more sophisticated with a door that is golden in hue.
Many individuals pair red brick homes with golden front doors. Golden front doors are brilliant but not so bright as to detract from the external appearance. The golden hue will offer roughly the same tone as a yellow but without being as brilliant if you do not want an intense yellow color on your front door.
8. Pink looks different
Pink is usually not used as door colors for red brick house. However, a red brick home may look fantastic with a pink front door! Painting the entrance door pink can offer a splash of color that should make it unique if your home is essentially brick.
Also, think about if a pink gate would go well with or conflict with other colors on the exterior of your property, such as the siding or the shutters. If required, change your hardware because brass or gold equipment looks best with pink doors.
The exterior of your property would benefit significantly from having a pink front door painted. With a bit of preparation, you may design a distinctive and fashionable style.
9. A Fresh Turquoise Blue Look
The stunning color for a front entry is turquoise blue. You are immediately taken to the beach by the color palette. It stands out without being overbearing. The contrast of the fall-colored blossoms highlights the beauty of the turquoise blue. The dense greenery surrounding the entrance enhances the home's natural beauty.
Most brick homes are dark red with turquoise doors because these hues give your home a distinctively different overall external appearance. A turquoise front door might be a terrific choice if you want a unique appearance. Since turquoise is a bright hue, a black background complements it better.
10. A Bright White Door Decorated With Plants
Bright white is the most used door color with red brick house. This classic door is modest and greyish-white. It has the same color as the front of the home. For a traditional look, the door is completed with brushed metal fittings. Any season's decorations would look fantastic against this plain background. Place lovely potted flowers on either side of the entrance to finish the effect.
White is an excellent hue since it goes well with any color. The contrast between the white front door and the dark red brickwork is striking. The overall aesthetic appeal of the façade is increased by the bright and beautiful appearance of white doors. Please take great care with anything white since it might become soiled quickly.
11. Heavier Shades of Green
Consider olive green while deciding brick house front door color. It is a calming, neutral tint that goes well with various exterior paint hues. This house features a lovely blend of painted grey brickwork and shingles.
The kick plate, hardware, and door numbers are all brass. The natural vegetation on the doorstep makes olive green a fantastic option. Additionally, because olive green comes in heavier tones, you may mix it with red brick walls that have light tones. Additionally, using plants as decorations enhances the appearance of your home.
12. Light Green Shades Complement Red Bricks
Light green shades, especially mint green, are a calming color that sticks out on your door. Your space will have more vitality if you choose this color. A pale green hue is called mint green. Green hues, particularly those that are lighter in tone, complement red hues.
Therefore, a greenish mint-colored door might be a perfect alternative for you if your home is made of red brick. However, it would help if you choose carefully since this door color may also not complement a light red brick wall. Therefore, check to see if the color complements your background first.
13. The Dark Blue Shade Is Stunning
Dark blue is another bold yet beautiful color option. Standard colors like red and blue might appear patriotic based on where you live. Red and blue hues may be seen together in a variety of settings. Blue doors are widely used as front doors for brick homes.
Therefore, a dark blue front door might look fabulous with a house constructed of red bricks. An attractive contrast between a light red wall and a dark blue tint is created. As a result, you may select a royal blue door based on your tastes.
14. Maroon And Red Color Combinations Are Outstanding
Considerations for a front gate for a house with a brick exterior seldom include color. It may, however, be rather startling. We're not referring to a dark, rich crimson here. But one that is lighter and brighter is something that will stand out significantly against the brickwork and give your property a distinctive appearance.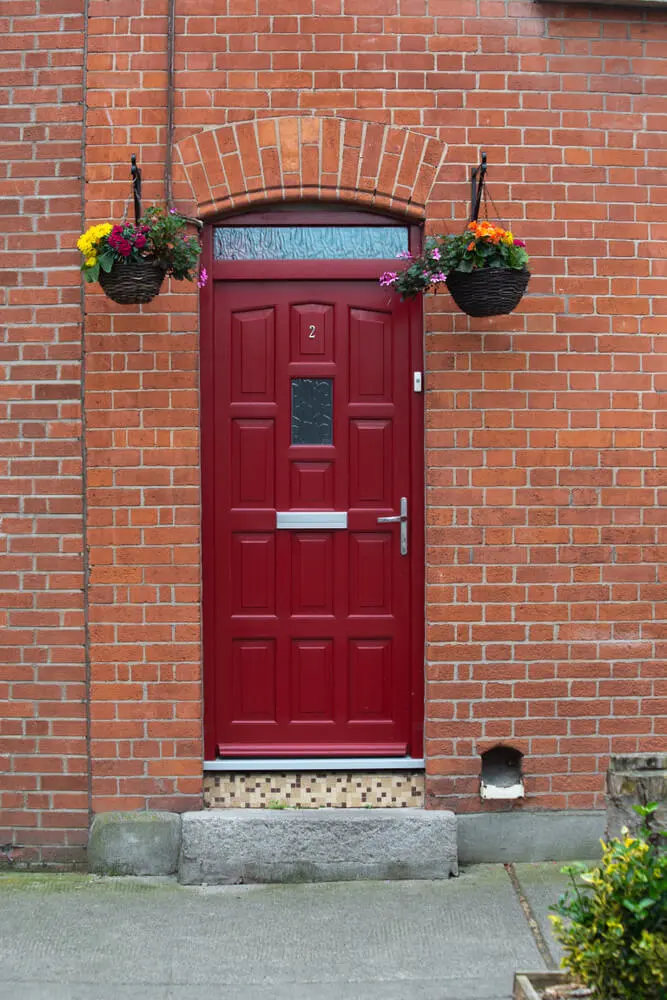 Therefore, if you want something a little unique, think about painting your entrance door maroon. How much you enjoy it can surprise you.
15. The contrast of Red Bricks with Red Door is Stunning
Most people would think a crimson front door would never go with a red brick house. Making the tones of the walls and the door not the same will prevent it from seeming muddy when closely matching red colors against red brick, though.
To create a precise pattern that isn't too matchy-matchy, consider adding complementing off-white trim or perhaps even repainting the windowsill the same shade of red. The best option would be to paint front door red that was a different shade of red than your brick wall.
16. Black Doors Go Pretty Well with Red Bricks
Since black is both bold and neutral, it's an excellent option for the front door of your red brick home since it creates intensity without using vibrant colors. Black is a fantastic color option if you like deeper colors and want to create a mood.
You may enhance your home's attractive appearance with a black design or a greeting mat with attitude. The main drawback to this color is that it attracts a lot of dirt, so you must pay close attention to how clean your door is.
17. Antique Doors Standout with Red Brick
An antique door has the advantages of being in a rustic design, having different colors due to deterioration, and providing conversation starters for visitors you encounter on the porch. Homeowners like antique doors when it refers to a building's outside appearance. Red brick homes look great with antique doors as well.
18. Orange Shutters Combined With Red Bricks
Orange brick house shutters are known to draw attention and have the same emotional effect as yellow. If you like planning family meals or sporting events an orange entrance door may convey the energy in your home.
Try trying several colors to see which one shines out the most since orange is similar to the red brick on your house. You can select the appropriate orange tint for a brick house by experimenting with a few different hues.
A brighter orange front door will look best with a deeper brick color on the home. Red brick homes tend to favor and employ a brighter orange with a deeper red brick house.
19. Wooden Doors Are Elegant
Choose natural wood that complements the brickwork as your front door material if you can't decide on a front door color that go with red brick. Natural browns in wood are inconspicuous and blend with almost everything. Any backdrop color will look well with natural wood doors.
Your red-brick home will look lovely and different with natural wood doors. The front gate is more vulnerable to damage, so you must carefully select strong and attractive plywood.
20. Modish Tinted Glass
A door with tinted glass looks attractive and serves its purpose. The blueish glass looks lovely when the door is painted a vibrant color. Glass doors may also be employed without damaging the appearance of your home's outside, regardless of the color.
Any shade of red brick home will look fantastic with frosted glass. The fragile glass used in these doors, which may be costly to replace, is the only negative.
21. Dual-Toned Doors Are Unique
If you want to appear brave, you might as well walk outside. To make your door more noticeable, use two complementary colors. If you carefully select the two colors for your door, you may create a style that is unsurpassed by any other combo. Dual-toned door treatments are pretty uncommon to see.
However, you remain careful in this situation since picking the incorrect color scheme without considering the hue of your home's backdrop might have terrible results.
22. Beige
Beige is a fantastic option if you enjoy how lighter colors appear but aren't prepared to go entirely white or want to avoid any other lighter color. Red bricks seem modest and upscale in this delicate off-white shade.
If your bricks are brighter and have mixed subtle hues, these tones will pop against the background of the creamy front door. Generally, your brick house's dark and light colors go well with this color on your front door.
Your home has an attractive appearance thanks to the creamy color. The entrance gate in beige will be the perfect option for you if you want to combine a dark backdrop with a light hue.
23. Plum
For a sophisticated yet vibrant aesthetic, paint your entrance door a plum color. Red and blue tints blended to give the plum a warm and excellent tone. These colors stand out more than any other combination when used with dark red external brick.
This color would stand out in a lush yard filled with trees and blooming green shrubs. Doors flanked by windows dressed look stunning when painted plum, allowing light to flood in and sparkle softly at night. Plum-painted doors with some agricultural décor are a terrific option if you want a vintage appearance.
FAQs- Front Door for A Red Brick House Ideas
Summing Up
If front door colors are correctly chosen, they may give your home an excellent, beautiful appearance. You should consider several elements, like the general design of your home and its location, while deciding on the color of your front door. We've included ideas for front door colors for a red brick house in this post to make things easier for you.
All these color ideas are best and considered world widely. We highly recommend them based on their importance and efficiency to make your house more beautiful.