Benjamin Moore Paint Cost – (2023 Estimates)
Last Updated on August 22, 2023 by Tokyo
If you're considering starting a painting job, it's important to clearly understand the expenses involved. Benjamin Moore, a well-known name in the paint business, provides a wide selection of high-quality paints that are praised for their durability and superb finish. In this guide, we will look at several factors that influence the overall cost of Benjamin Moore paint, such as paint type, amount needed, and supplementary materials. Understanding the Benjamin Moore paint cost can help you make informed selections and achieve exceptional outcomes, whether you're a homeowner trying to renew your living space or a professional contractor searching for dependable paint solutions. So, let's dive into the specifics and explore the intricate details of Benjamin Moore paint cost.
To fully grasp the other key aspects, it's necessary to dive deeper into the intriguing history of Benjamin Moore Paints, a well-known firm that has been producing high-quality paints for over a century.
History of Benjamin Moore Paint
Benjamin Moore Paints boasts a storied history that spans more than a century. The company was established in 1883 by Benjamin Moore and his brother Robert in Brooklyn, New York. Initially, they concentrated solely on making high-quality paints for the professional market. Benjamin Moore Paints expanded its scope and began distributing paints to households as demand for their products soared.
In the early 1900s, Benjamin Moore Paints introduced a breakthrough product known as Moore's Prepared Calsom Finish, which gained significant fame for its superior durability and ability to withstand harsh conditions. Benjamin Moore Paints produced a revolutionary latex paint in the 1940s. This latex paint provided enhanced performance, simplicity of application, and a large spectrum of brilliant colors, making it a favorite of both professionals and homeowners.
Aside from its dedication to manufacturing high-quality paints, Benjamin Moore Paints are well-known for their diverse color range. Today, Benjamin Moore Paints is a trusted industry leader. With a long history of craftsmanship and a dedication to providing great paints, Benjamin Moore is a go-to choice for professionals and individuals looking for superior color and performance in their painting tasks.
Where Are Benjamin Moore Paints Made?
Benjamin Moore paints are proudly manufactured in the United States and Canada. With manufacturing facilities located in New Jersey, New York, Texas, Massachusetts, and Alabama, Benjamin Moore assures that its paints are created to the highest quality and consistency requirements. Because of this localized production, they can maintain tight quality control standards while also helping local economies.
What Is the Quality of Benjamin Moore Paints?
Benjamin Moore paints are well-known for their high quality and durability. They make significant investments in research and development to create paint compositions that provide attractive, long-lasting effects. Benjamin Moore has a wide range of colors, so you can select the exact hue to bring your vision to life. Their paints are designed to give good coverage, durability, and wear and tear resistance, making them suited for a variety of surfaces and conditions.
Where Can I Find Benjamin Moore Paint?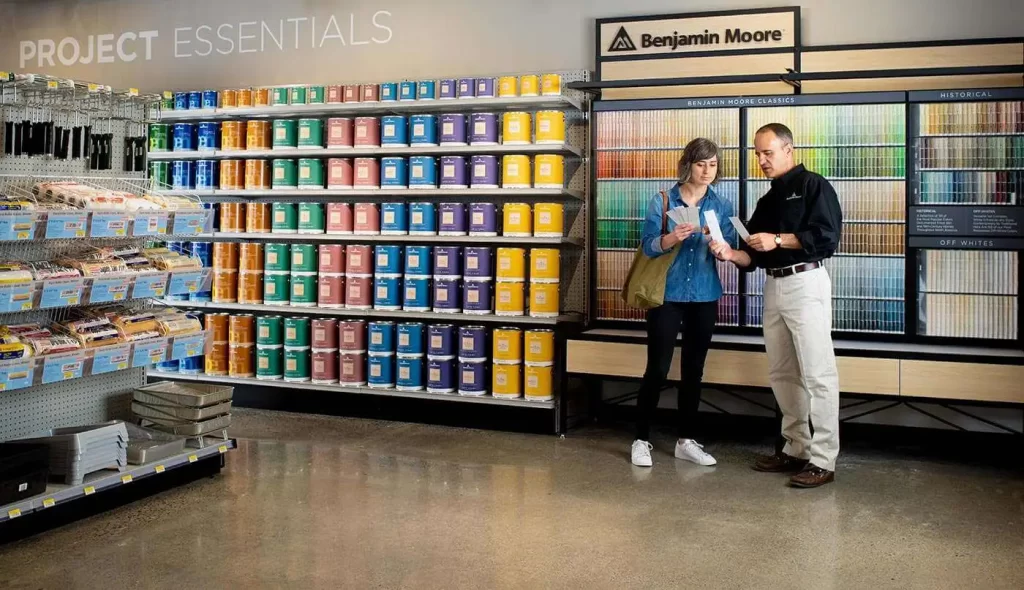 Benjamin Moore paint can be found at authorized retailers, which include independent paint stores, specialty shops, and select home improvement centers. These retailers are trained and knowledgeable about Benjamin Moore products, providing expert advice and assistance to help you choose the right paint for your project.
Benjamin Moore Paints has embraced the digital era, making its goods available via online websites. The official Benjamin Moore website has an easy-to-use layout where customers may browse a large range of paints, finishes, and color combinations. Benjamin Moore Paints are also available through online purchasing platforms and authorized shops, allowing clients to acquire their favorite goods with only a few clicks.
Is Benjamin Moore Paint Expensive?
When comparing prices among different paint brands, Benjamin Moore Paints are often considered a premium option in terms of cost. While Benjamin Moore Paints are more expensive than some other brands, it's necessary to note that they're known for their great quality and performance. The value of Benjamin Moore Paints extends beyond the price tag to include long-lasting durability, bright color selections, and a simpler application technique.
Benjamin Moore Paint prices vary based on the line of paint and the retailer selling it. Benjamin Moore Aura, for example, is a high-end product with a hefty price tag. Furthermore, Benjamin Moore has a diverse product line, allowing consumers to select from a variety of pricing ranges to meet their budget and project requirements.
Benjamin Moore website also offers a "Paint Calculator" feature to help customers estimate the amount of paint they need for their project. Ultimately, the value and enjoyment gained from using Benjamin Moore Paints frequently surpass the original expense, making it a favorite choice for both professionals and individuals who appreciate outstanding results.
How Much Does Benjamin Moore Paint Cost?
Benjamin Moore Paint is a high-end paint brand with a diverse selection of paint lines, finishes, and colors. Benjamin Moore Paint prices vary based on numerous criteria such as paint line, finish, and coverage such as:
Benjamin Moore Ben line: The least priced line of Benjamin Moore Paint, with a gallon costing $25 for a flat finish.
Retailer: Benjamin Moore Paint prices might vary depending on where you buy it.
Benjamin Moore Aura line: The most costly Benjamin Moore Paint range, with a gallon costing up to $100 for a semi-gloss finish.
Average Cost: A gallon of Benjamin Moore paint costs $57 on average, whereas Sherwin Williams costs $53.
A gallon of Benjamin Moore paint typically costs between $25 and $100, depending on the line, finish, and coverage. Benjamin Moore Paint prices vary based on numerous criteria, but it is normally more expensive than other paint brands.
Benjamin Moore Interior vs. Exterior Paint Cost
The cost of interior vs. exterior paint might differ significantly. Because of the special qualities necessary to endure the external environment, exterior paint is often slightly more expensive than inside paint. The paint used on outside surfaces must be extremely long-lasting, resistant to the elements, and able to shield surfaces from UV radiation, moisture, and temperature changes.
Benjamin Moore's interior paint lines, on the other hand, provide great performance and a broad selection of colors but are particularly developed for indoor usage.
Interior Paint Cost
Benjamin Moore offers four major product lines for interior paint: Aura, Natura, Regal, and Ben. Each line emphasizes distinct characteristics and is priced differently. Benjamin Moore interior paint typically costs between $25 and $100 per gallon. Consider Benjamin Moore. Ben paint is often more affordable, especially if you choose a matte finish, but Aura Waterborne is Benjamin Moore's ultra-premium interior paint that costs approximately $100 per gallon.
Exterior Paint Cost
When it comes to exterior paint, Benjamin Moore has a variety of paints intended to endure the weather and protect the exterior of your home. Benjamin Moore Ben exterior is often a less expensive choice, with prices starting at $55 for a flat finish. Benjamin Moore Aura Exterior is on the expensive side, costing up to $100 a gallon.
What Affects the Cost of Benjamin Moore Paint?
Benjamin Moore paint prices might vary based on a number of factors. Understanding these aspects can assist you in determining the total cost of your painting project and making an informed choice. The following are the most important variables to consider:
Paint Line
Benjamin Moore paint costs vary depending on several aspects, making it a popular choice for both professionals and homeowners looking for high-quality finishes. The paint line itself is an important aspect. Benjamin Moore has a variety of paint products designed to meet a variety of demands and budgets.
Benjamin Moore paint prices vary based on the line selected. For example, their premium line, such as the Aura® or Regal® Select, is more expensive because of its improved performance and longevity. These lines frequently have advanced characteristics like as enhanced coverage, stain resistance, and outstanding color retention, making them perfect for high-traffic areas or challenging conditions.
Benjamin Moore, on the other hand, provides more affordable options, such as their ben® range, which delivers high quality and value for people on a tight budget. Because each line caters to various demands and offers a varied level of performance and features, the paint line chosen has a direct impact on the pricing of Benjamin Moore paint. Finally, the choice of paint line is determined by the project's unique needs and the intended balance of quality and price.
Finish
Another important component influencing Benjamin Moore paint prices is the finish. Benjamin Moore provides a diverse choice of finishes, each with particular characteristics and advantages. The finish chosen can have an effect on both the look and performance of the painted surface. Benjamin Moore provides a variety of finishes, including flat, matte, eggshell, satin, semi-gloss, and high-gloss.
Generally, the higher the shine of a finish, the higher the expense of the paint. Because of their shiny and lasting nature, high-gloss coatings, for example, are more costly than flat or matte surfaces. These finishes are frequently utilized in places that must be cleaned quickly, such as kitchens, bathrooms, or high-traffic areas.
Retailer
Benjamin Moore products are available through an authorized dealer and retailer network that includes paint stores, home improvement centers, and online platforms. Benjamin Moore paint prices might vary depending on factors such as location, overhead expenses, and competitive pricing tactics.
Furthermore, the degree of customer service and expertise supplied by the merchant might have an impact on the pricing. Retailers who provide experienced employees, color consulting services, and personalized guidance may be able to charge a premium for their services.
Location
Benjamin Moore items are sold all around the world, and costs vary based on location or nation. Taxes, import/export fees, shipping expenses, and local market circumstances can all have an impact on the price of Benjamin Moore paint in different countries. Benjamin Moore paint, for example, maybe more expensive in places with greater living expenditures or where the cost of doing business is usually higher.
Furthermore, Benjamin Moore paint availability may vary based on location, with some regions having a greater network of merchants and distributors than others. This can have an impact on pricing competitiveness and the ease of access to Benjamin Moore items.
How Much Does It Cost to Paint a Room with Benjamin Moore Paint?
Painting a room is a terrific way to update the appearance and feel of your house, but you may be wondering how much it will cost. A few elements might have an impact on the final cost. First and foremost, the size of the room is important. Larger rooms will need more paint, which will result in greater expenditures. Furthermore, the type of paint finish you select might affect the price, since Benjamin Moore provides a variety of finishes, including matte, eggshell, satin, and high gloss, each with its own pricing point.
Another factor to consider is whether you want to employ expert painters or do the job yourself. Hiring pros may result in higher labor expenses, but it guarantees a more polished and efficient product. Finally, the price will vary based on where you live and the availability of Benjamin Moore paints in your region. Here's how to calculate the cost of painting a room with Benjamin Moore paint:
Calculate the Surface Area
Take measurements of the walls or surfaces you intend to paint. To get the square footage, multiply the width by the height of each wall. To get the overall surface area, add the square footage of all the walls.
Determine the Paint Coverage
Next, choose the paint line and application technique you'll use to paint the room. Each paint line has a different amount of coverage. For example, a gallon paint Benjamin Moore Regal Select can cover 400 to 450 square feet, but Benjamin Moore Aura can only cover 350 to 400 square feet. This implies that if you pick a paint line with lesser coverage levels, you may require extra paint. To calculate the amount of gallons needed, divide the entire surface area by the coverage rate.
Calculate the Total Cost
To calculate the total cost of Benjamin Moore paint for your project, multiply the estimated amount of gallons needed by the price per gallon.
Other Accessories
You'll also need to factor in the cost of additional equipment like brushes, rollers, and drop cloths. These expenses may easily mount up, so include them in your budget.
How Can I Save Money on Benjamin Moore Paint?
Keep an eye out for deals and rebates at your local hardware shop. Benjamin Moore paint may occasionally find its way to a clearance or damaged rack. If you keep looking, you could find a wonderful price!
It's worth mentioning that a slightly dented can won't impair the quality of the paint as long as the contents within aren't damaged. Taking advantage of a dropped can with minor dents is often a wise decision.
Another money-saving tip for buying paint in general: priming beforehand, especially if you're changing colors dramatically. Tinted primers, such as those sold by Benjamin Moore, can be used for this purpose. Priming efficiently covers the old paint, minimizing the number of applications of fresh paint required. Despite the fact that Benjamin Moore paint is recognized for its priming skills, following this advice might still be beneficial!
Does Benjamin Moore Paint Go on Sale?
While Benjamin Moore items are only sold and delivered by independently owned, authorized retailers, including purchases made through the Benjamin Moore online shop, individual retailers determine their own prices and decide whether or not to use coupons or other promotional incentives. This implies that Benjamin Moore paint may be on sale at particular periods of the year or at specific retailers.
Shopping around and comparing pricing at multiple stores is the best approach to getting Benjamin Moore paint at a lower cost. Some retailers may provide discounts or discounts on Benjamin Moore paint, but others may charge a higher price for the same product. To get the greatest bargain on Benjamin Moore paint, search around and compare prices.
Taking advantage of seasonal promotions is another method to save money on Benjamin Moore paint. You may be able to purchase Benjamin Moore paint on sale at lower prices at specific periods of the year, such as holidays or the end of a season. Additionally, certain authorized retailers may occasionally offer special promotions or discounts on Benjamin Moore items, so keep an eye on their websites or social media platforms for offers.
Cheapest Place to Buy Benjamin Moore Paint
When it comes to selecting the most economical Benjamin Moore paint options, here are a few tips to help you get the greatest offers. Firstly, try going to a local independent paint store or an authorized Benjamin Moore outlet, as they frequently have affordable rates. Keep an eye out for seasonal specials and sales events conducted by these merchants as well. Another alternative is to look into internet markets and e-commerce platforms, where you may discover lower costs, especially if you buy in bulk.
FAQs
Conclusion
Benjamin Moore paints provide a wide range of colors and great quality when it comes to altering your living area. While Benjamin Moore paint may be more expensive than other brands, you will find the investment worthwhile owing to the paint's resilience and lifetime. You may more properly estimate the cost of your project and make informed decisions by taking into account aspects like paint line, amount, color, and retailer. So, despite the initial price, Benjamin Moore is a brand worth considering if you're searching for high-quality paint that produces remarkable effects.
Related Articles: