How Long Does It Take to Tint Car Windows? DIY Method to Tint Car Windows
Last Updated on July 19, 2023 by Tokyo
While driving on a highway, you must have seen a lot of vehicles pass by, and then obviously tinted windows grabbed your attention. Now you must be thinking, why not you should try it too. But at the same time, you must be wondering, "How Long Does It Take to Tint Car Windows?" and "How Much to Tint Windows on Car?"
It will take 3 to 4 hours to re-tint car windows, but the dry period of it will be 2 to 3 weeks, and then it will stick on the surface strongly. The dry time also depends on the type or quality of tint you are using on your vehicle.
If you want to know the car window tint estimate and the average time to tint the car windows, then go through the entire article carefully:
What Are the Different Types of Window Tints?
There are variables of tints available in the market for your auto windows, and to choose the best one, you need to have a look at the below discussed types:
Metalized Tint:
Metalized tints don't allow the heat or sun rays to enter the vehicle and also protect the windows from breaking in a severe accident. It is the shinier and scratch-resistant tint that will last on the car windows for a longer period. But the thing which is not right is that it is not affordable, and its metallic particle can disturb the signals of GPS, radio, and phones.
Carbon Tints:
This matte tint is for those who don't like shiny finishing and want to give their vehicle a decent or sophisticated look. This is the most expensive type of tint, which will provide you with advanced technologies.
As the temperature will remain balanced in the winter season so your car heater will be used less, and it is a crash-lasting glassy tint that will not break easily in an accident. It is a durable, scratch-resistant, and long-lasting tint that will not fade, scratch, or bubble because of sunlight. This non-metallic tint will not create any kind of signal problem.
Ceramic Tint:
The Nano-ceramic tint is the latest version of the tint and provides the required services. It will not get faded from the sun's rays or will not be chipped over time and will remain the same even after years.
The inside temperature of your car will remain balanced, and it will also provide you privacy so no one can see inside the vehicle, but only you can see the outside from the inside.
Crystalline Tint:
In case your only purpose of window tinting is to stop the heat and rays from coming inside, then crystalline will go according to your demand.
But if you want to maintain the privacy or don't want that no one can see inside your car, then it will be the worst choice for you.
Hybrid Tints:
It is a mixture of metalized and dyed tint, offering high-level privacy. Hybrid tints efficiently block the way of sun rays, which will protect the inside paint of your car. But the disappointment is due to the metal particles. The signals of GPS, phone, and radio will jam.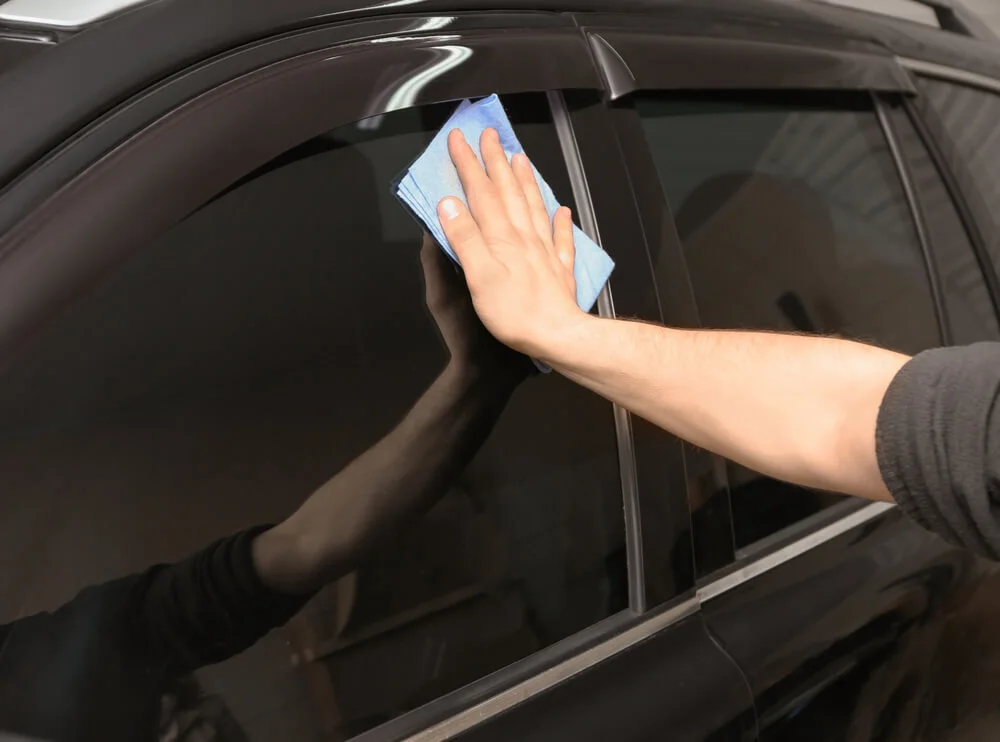 Dyed Tints:
If you are low on budget, then go with dyed paint but keep in your mind that it will not be durable or provide the advanced technology as other tints do. It will block a small number of sun rays which is not impressive at all. So, it is recommended to expand your budget and purchase the one which will be more efficient.
Is It Hard to Tint Your Own Car by Yourself?
When you are experienced and trained in tinting car windows, then it will not be hard for you because by following each and every step smartly, you can do it properly.
But if you are not familiar with the DIY steps, then one wrong step can ruin the appearance of your auto windows.
If you want to know "How to Apply Window Tint?" then scroll down and read the below steps:
Essential Tools:
These are the essential tools that will be used in the whole process:
Sharp knife
Squeegee kit
Hard card
Heat gun
Spray can
Other Material:
Read Also : Can I Use Base Paint Without Tint? Step by Step Guide 2023
Prepare Your Vehicle's Windows:
Select a place that is moisture free and clean to get the needed finishing.
Remove the previous adhesive or glue from the windows.
Spray the cleaner on the windows and then use a sharp knife to remove the stubborn particles of dust and debris.
Use a towel to dry the surface.
To get rid of the remaining moisture, roll the window again.
Preparation of Tint:
Note down the measurements of your car windows.
Now to check that you are cutting the tint accurately, place it on the window and spray the soapy mixture on it, which will enable it to stick to the surface temporarily.
Grab the roll of tint and cut it.
It will be best to do 3 to 4 inches of extra cutting of tint from each side.
Pick the knife and cut the extra borders from the corners.
The heat gun will help you to avoid bubbling issues.
Apply the Tint:
Clean the window on which you are going to tint.
Now apply the tint on the car and remove the back paper, then start spraying soapy water on it.
Use the hard card to remove the bubbles and to stick the tint perfectly.
When you feel the water is getting dry, then again spray it.
It's time to leave it to dry properly.
How Do I Know If My Window Tint Is Dry?
Are you wondering, "How Long Does Tint Take to Dry?" So, if you want to know whether the tint is dry or not, check that there is no blurriness and no window tint bubbles after installation appearing in the finishing.
Then it means tinted windows are ready, and you can freely roll down or roll up them.
How Long After Roll Down Windows?
When you are done with the tinting process, then it is suggested to roll them down after 2 to 3 days. In case you are doing it in the winter season, then the ideal window tint cure time will be 3 to 4 weeks then you can open up the windows.
If you don't give the proper time to the tint to get dry and roll down the windows before maturity time, then you will see the bubbles will appear in the finish.
What are the Factors that can Affect the Window Tint Lifespan?
There are four major factors that I have discussed below that will reduce the durability and the performance of your windows tint:
Tint Application:
If you are applying the cheap stuff or cheap tint by yourself on your auto windows without the installation experience or hiring a low-ranged professional, then it will crack, peel off, bubble, or fade too soon.
So, to avoid these kinds of issues, you should get tint services from a top-rated professional.
Hazard of Tint:
Local tints get faded and become ugly very soon because they are not heat and sun-resistant. If you want that the tint will survive in any weather, then you should purchase a quality tint for your vehicle.
Tint Quality:
Low-quality tints will not go according to your requirement and will disappoint you, so to get advanced technologies such as privacy, heat protection, and blocking of sharp light, you need to purchase a premium window tint.
Maintenance:
You should maintain your car windows after tinting to keep the tint alive and fresh. But if you scratch it with a sharp object and will not maintain it, then it will affect the life of the tint.
How Long Does It Take to Tint Car Windows? Factors that Influence Tinting Process Duration
The process of window tinting can be done within 2 to 3 hours if you are hiring a top-reviewed professional. But if you go to a local tinter, then he will complete the tint job in several hours.
Just like these, here are other factors discussed in detail that can influence the window tinting time:
Size and Numbers of Windows:
Small-sized windows will take 1 to 1.5 hours to tint, but the other side large ones will take more time to tint. One more thing the tinting car windows time will increase or decrease according to the number of windows you are going to tint.
Remove The Marks of Glue:
If there is a previous residue of glue on the surface, then it will take extra time and energy to remove them.
Old Tint:
Do you know "how long does it take to remove a tint?" if your car windows are tinted before, then the tinter will remove it first, and because of it, 2 to 3 extra hours will add to the tinting process.
Experience with DIY:
When you have no experience and start tinting your car by yourself, then you will not do the tint job properly or speedily. If you miss a single step, then you will need to repeat the whole procedure again, which will be a very time taking or time-wasting process.
How Long for Tint to Cure?
The curing period of the tint totally depends on the weather and the quality of the tint. Let's discuss the window tint cure time in detail:
Weather:
Before tinting, you should know some weather conditions:
Window Tint Cure Time Summer: Do you know "how long for tint to cure in summer?" So, in hot weather, tint cures within 2 to 3 hours which is the ideal time for everyone.
Rainy Season: it will be very hard for the tint to stick strongly on the surface in rainy weather, and it will take a lot more time to dry.
Humidity in Air: In case you are doing a tinting job in summer, but there is humidity present in the air, then you should prepare it in your mind that the tint will take several weeks to cure properly.
Cold Weather: if you are tinting in cold weather, then the curing period will go longer than others.
So, to avoid disasters, you should choose the ideal climate and the right place to tint your car windows.
Polyester and Ceramic Tint:
When we talk about the performance of the ceramic tint, then it is the most durable and stronger one. But it needs a lot of time to dry properly.
On the other hand, polyester tint is affordable and dries fast as compared to ceramic. And if you choose polyester instead of ceramic, then you should know that it is not long-lasting and reliable like ceramic.
How to Protect Auto Window Tint?
To protect your tinted windows, you should focus on their maintenance, and it is also suggested to clean the seal of your car windows on a daily basis.
As little particles of dust easily go inside the seal of the windows, and while moving the windows, they will scratch the tint.
How to Remove Old Tint from Car Windows by DIY?
You can easily remove the previous tint from your car windows by yourself, and here are some different methods mentioned below to remove it:
Method#1: Newspaper and Foamy Water:
Gather the Tools: First, you need to collect all the essential materials, such as foamy water in a bucket, water, a towel, a sharp razor knife, newspaper, a sponge, and clean water.
Put on Foamy Water: Put on the foamy water on the tinted windows, then apply a newspaper on it and leave it for 60 minutes. Whenever you feel the newspaper is getting dry, then again spray the mixture on it.
Use Razor: Now cut the newspaper and the tint with the use of a sharp blade from upside to downside.
Leftovers of Tint: If there are little marks of glue and tint shown after the process, then repeat the whole procedure again to get rid of them.
Method#2: Heat Gun or Dryer:
Essential Tools: In this method, you will need to gather a knife, cloth, towel, dryer, and cleaner.
Hair Dryer: Give heat to the tint with the hair dryer and keep scratching it with the knife until it starts peeling off.
Use Towel: Then remove the remaining residues of glue with a towel and when you feel the glue is getting stubborn, then again use the hair dryer to lose it.
Clean the Windows: Now apply the cleaner on the windows, then wipe it out with the towel.
Method#3: Steamer:
Required Material: The most necessary tool for this method will be a steamer, water, glue cleaner, and paper towel.
Add Water in Steamer: Now add water to the steamer, then switch it on.
Steam: Give steam to the tint for 30 seconds to 1 minute until the tint loses its bond.
Peel Off: After that, start peeling off the tint in a straight manner.
Clean Again: Put on the glass cleaner to get rid of stubborn adhesive from the tint, and then wipe it with a paper towel.
Final Verdicts:
Although you must get the answer to "How Long Does Window Tinting Take?" and "How to Tint Windows?" So, the car tint job can be done within 2 to 3 hours by yourself, and after that, it will take some extra time to cure properly.
If you have no experience doing it by yourself, then it is recommended to hire a professional tinter to tint your vehicle. Also, you should check what the law of tinting is applied in your state, and then you will understand which percentage of tinting is legal.
How Long Does It Take to Tint Car Windows? FAQs
Related Posts: